This article appeared on SportsNews Ireland
Back in early November, when Michael O'Neill was first linked with the Northern Ireland job, alarm bells were ringing in Derry. It seemed certain that, in light of their remarkable European and league success, Shamrock Rovers would be seeking the best manager in Ireland. And his name was Stephen Kenny.
Sure enough, as O'Neill quit the Rovers post in December 2011, Kenny's name was touted in the media and sure enough, the Dubliner had had talks with his hometown club. Many fans were livid with the apparent submission of the club to the financial might of Shamrock Rovers; they said it demonstrated a lack of ambition by the board. Derry had allegedly stalled on showing Kenny a budget – a claim that the Derry board strongly denies. However, when one considers all of the factors, it was always going to be difficult to keep Kenny.
So who will take up the reins at the Brandywell?
Derry City chairman Philip O'Doherty has stated that the board have set a deadline for applications at Friday January 6 and when questioned he gave the impression that he was not averse to having a local man take up the mantle. Speaking to the Sunday Journal, O'Doherty said that they had received "about 12" applications, but were keen for more. Sligo manager Paul Cook, arguably the most desirable candidate, ruled himself out following discussions with the club.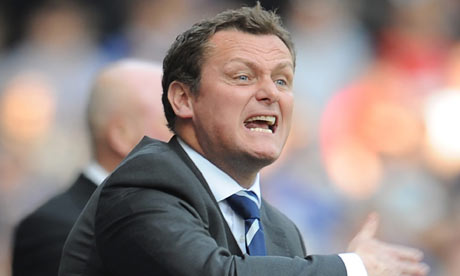 Jim Magilton (Guardian)
Jim Magilton
The Derry Journal has reported that the Derry City board have contacted former QPR and Ipswich manager Jim Magilton. A former Northern Ireland international, Belfast man Magilton was included in the Irish FA's three man shortlist for the job as Northern Ireland manager, but missed out at the expense of his former colleague, Michael O'Neill. Magilton's experience as a manager in England and as Michael O'Neill's assistant at Shamrock Rovers places him in an advantageous position, but he is likely to command a lucrative wage, something which might be a stumbling block.
Felix Healy (Donegal Democrat)
Felix Healy
Arguably one of the most gifted footballers to come out of Derry, Felix Healy enjoyed a successful football career which saw him line out for Coleraine and Derry City, picking up 4 caps for Northern Ireland along the way. He has also experienced relative success as a manager, which includes time steering the fortunes of Derry. In the period from 1994 to 1998, Healy won the League, League Cup and FAI Cup with Derry before resigning. The Derry man also managed Derry's local rivals Finn Harps where he guided them to promotion in 2004 before being sacked the following season. While he is currently employed in the role of Director of football with Finn Harps, Healy has not managed in quite some time. Nevertheless, his previous success with Derry would bolster his case
Peter Hutton (BBC)
Peter Hutton
Current Finn Harps manager Peter Hutton is one of the most respected characters in the League of Ireland, having enjoyed a successful playing career predominantly with Derry City, but also with Dublin club Shelbourne. A no-nonsense centre back, Hutton was a long-serving captain of his hometown club and has actually managed the club briefly on two occasions in 2004 and 2007, albeit in a caretaker-capacity. "Pizza" as he is known to fans, has been struggling with Finn Harps and he is relatively untried as a manager. Therefore, despite his iconic status, appointing Hutton would be a bit of a gamble by the Candystripes board.
Paul Hegarty (Sportsfile)
Paul Hegarty
Donegal man Hegarty has been linked with the vacant Derry City post and his appointment would not come as a surprise. A former Finn Harps and Derry City midfielder, "Heggsy" has had a number of forays into the world of coaching and has an abundance of experience managing teams in the north-west. Hegarty was the player-manager of Drumahoe side Institute from the period of 2002 to 2005, before joining Stephen Kenny at the Brandywell as assistant manager. Like Felix Healy and Peter Hutton, Hegarty has also managed Finn Harps, guiding them to promotion in 2007. However the Ballybofey side were relegated from the Premier Division in 2008 under Hegarty's stewardship and the Donegal man left the post in 2009.
Declan Devine
Declan Devine (Extratime Photos)
Devine could be an outside candidate for the role as Derry City manager, given his experience as assistant to Stephen Kenny. Devine plied his trade as a goalkeeper for a number of Irish clubs, including Derry City, Institute and Glentoran, before becoming a coach and he is a respected figure within the club. In 2006, Devine reluctantly followed Stephen Kenny to Scotland to become a coach at Dunfermline and followed him back to the Brandywell upon the Dubliner's return in 2007, so it has been suggested that Kenny will seek to have Devine as his number two at Tallaght. However, Devine may find the allure of management too desirable to pass up.