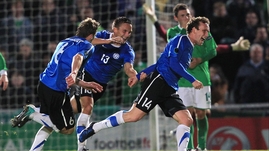 Estonia defeat Northern Ireland
A chorus of joy rang out around Ireland as Zbigniew Boniek announced that Estonia would be Ireland's opponents in the Euro 2012 Play Offs. Out of the four possible opponents, Estonia was viewed by many as the dream draw and it's hard to disagree with the reasoning. However, many journalists and sports writers are already suggesting that it is likely that we were probably Estonia's dream draw. So what we've got now is a match made in heaven.
Maybe Trapattoni's alleged Opus Dei connections have been at play; maybe he was right about Saint Patrick being a fan of the FAI. Darren O'Dea, too, seemed to know something that we all didn't when he said he was sure that we'd be in Poland and Ukraine next year. However, there is one more trial to be completed before the prophecy of the centre-half can be realised.
Estonia emerged from a tough qualifying group in which they were fifth seeds, catapulting themselves up the ladder of the FIFA rankings along the way, with convincing away victories over Serbia and Slovenia, as well as beating Northern Ireland at home and away. They have, nevertheless, shown themselves to have the inconsistency that is typical of weaker teams, having been beaten by Brian Kerr's Faroe Islands. That said, for a nation of Estonia's stature in football, similarly to Armenia, to get this far is a marvellous achievement and their players will no doubt be spurred on by their status as underdogs.
Therefore, Trapattoni must once more remind his players of the perils of complacency and ensure that the results send us on our way to Poland and Ukraine. Come on you Boys in Green!